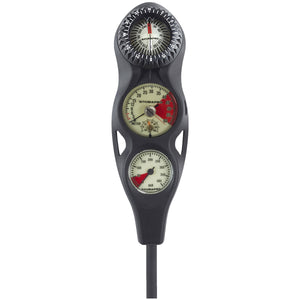 3-Gauge In-line Console, Metric
05.011.714
MVR6,03025

MVR6,030.25
Price includes 8% GST
---
---
This three-gauge console includes a traditional compact plastic case pressure gauge a compact oil-filled analog depth gauge with linear Bourdon tube design and compass. The Scuba Pro 3 Gauge Console is a lightweight and compact console with a durable impact resistant boot that accommodates the pressure, depth gauges and compass. The Scuba Pro 3 Gauge Console is great as a primary or back-up instrument for recreational or more experienced divers. This compact all-in-one console has recessed instrument compartments to protect the instruments face. The boot is equipped with multiple lanyard attachment points to keep the instruments close-at-hand and not damaging the marine environment. Console comes with an owner's manual.

The oil filled depth gauge has a readout from 0 to 60m of depth with bright red indicator marks at 3m to 6m to indicate decompression and safety stop requirements if required. The gauge face has a red background from 40m to 60m to indicate depths beyond normal sport diving limits. The gauge is equipped with a maximum depth indicator (MDI). The MDI needle will mark your deepest depth reached on a dive. This feature is helpful when logging dive information providing key data for repetitive dives. The depth gauge has a luminous dial for easy reading in night or low light conditions and comes standard with a built-in thermometer providing temperature readings from -10°C to 50°C.

The submersible pressure gauge (SPG) has a readout from 0 to 400 bars in 50, 100, 150, 200, 250, 300, 350, and 400 bar numerical increments. A red reserve air zone displays at 0 to 50 bars and safety in low air situations. Like the depth gauge the SPG has a luminous dial for easy reading. The pressure gauge comes with a 7/16" treaded 87.5cm (34.5") high pressure hose.

The UWATEC FS-1.5 Compass provides a unique tilt angle of up to 26°, making it easier-to-read and operate in most any position. The compass is compact, extremely durable, and most importantly, it provides precise underwater navigation. Mounted in a pressure-resistant oil-filled scratch resistant polycarbonate housing, this compass is easy to read and easy to use. The compass has a highly luminous dial for easy reference in low light conditions. The ratchet bezel can be rotated easily even with thick neoprene gloves. The compass bezel has compass headings in 30° numbered or directional increments and indicator marks for every 10°. Bezel has twin heading indicators for alignment of compass course and a lubber line across the compass face. Compass is designed for use in the northern hemisphere.
The 3-Gauge In-line Console features:
Scubapro 3 Gauge In-Line Console, Metric:
Lightweight & Compact Console
Durable Impact Resistant Boot
Primary or Back-Up Instrument for Recreational or More-Experienced Divers
Compact All-In-One Console
Recessed Instrument Compartments, Protect Instruments Face
Luminous Dials for Easy-Reading in Night or Low Light Conditions
Multiple Lanyard Attachment Points
Gauge Cases: Non-Corrosive Plastic
Depth Gauge:
Oil Filled Depth Gauge
Linear Bourdon Tube Design
Readout from 0 to 60m
Bright Red Indicator Marks at 10' to 20' for Decompression & Safety Stop Requirements
Red Background 40m to 60m Indicates Depth Beyond Sport Limits
Maximum Depth Indicator (MDI)
MDI: Helps Planning & Logging Repetitive Dives
Built-In Thermometer: Temperature Readings from -10°C to 50°C
Pressure Gauge:
Readout from 0 to 400 bars
Numerical Increments: 50, 100, 150, 200, 250, 300, 350, & 400 bars
Red Reserve Air Zone Display: 0 to 50 bars
7/16" Threaded 87.5cm (34.5") High Pressure Hose
Compass: UWATEC FS-1.5
Scratch Resistant and Durable Polycarbonate Case
Oil-Filled
Ratchet Rotating Bezel
Bezel:
Compass Headings 30° Numbered Increments
Indicator Marks for Every 10°
Tilt Angle of Up to 26°
Twin Heading Indicators for Alignment of Compass-Course
Lubber Line
MA SERVICES is the authorized distributor of SCUBAPRO products in the Maldives.
---
We Also Recommend