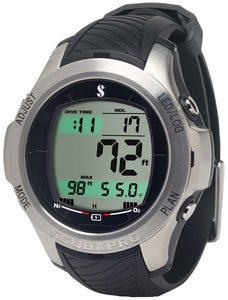 Z1 Dive Computer
27.300.110
MVR12,74500

MVR12,745.00
Price includes 8% GST
---
---
Powered by the Sun, this Wristwatch-Style Computer takes Modern Diving to a New Level.
Wearing a Z1, casual recreational divers can be styling during the work week and dive-ready on the weekend, all the while knowing they are contributing to a healthier planet. The wristwatch-style Z1 is a good-looking timepiece for topside use.
At the same time, it's a ruggedly built dive computer. Its hybrid construction combines a polyacrylate case with a 316L stainless steel bezel (polyacrylate resin provides better heat-resisting properties than polycarbonate). This gives the Z1 a high-quality feel and appearance, yet enables it to excel in both durability and light weight.
Technical Information
Solar charging system provides hassle-free battery charging.
Internal battery can be charged by outdoor sunlight or indoor fluorescent light.
Power saving function maximizes your dive time between charges.
Battery can last for more than 8 years before needing replacing. (Maximum life span depends on use and conditions.)
Hybrid construction combines an attractive polyacrylate case and 316L stainless steel bezel for lightweight durability.
Buhlmann (ZHL-16C) algorithm offers Nitrox capability from 21% to 100% O2 for up to 4 Nitrox mixes.
Provides full time-keeping functions, including a stopwatch. Digital onboard electronic compass allows for easy navigation.
A non-step altitude measurement configures the pressure reduction based on the current atmospheric pressure rather than using an altitude ranking.
Large, bold numbers in the center of the screen, plus eye-catching green highlights, ensure that all dive data is always easy to read.
Super bright backlight can be activated for 1.5 seconds or 3 seconds by simply tilting the arm (when the Auto-Light function is set to ON).
Audible and visual alarms keep you alert to your dive status. Depth and time interval alarms are diver-selectable prior to the dive.
Logbook stores 30 dives and includes a dive history which can be analyzed with wireless technology.
Bluetooth 4.0 Low Energy connectivity lets you download dives to any iOS or Android device.
Dive modes: Scuba, Freediving and Gauge.
Maximum operating depth: 328ft/100m.
Available in a variety of eye-pleasing casing and wrist band colors (see below).
Will also accept M2 and Chromis colored wrist bands.
At the moment, only available in Black/Silver color
MA SERVICES provides professional service for all SCUBAPRO computers.
---
We Also Recommend