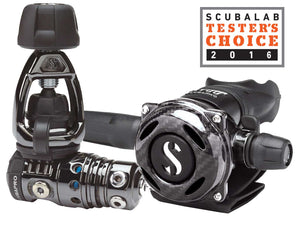 MK25 EVO / A700 Carbon Black Tech
12.770.700
MVR27,07000

MVR27,070.00
Price includes 8% GST
---
---
RACE CAR SLEEK, BATTLE TANK TOUGH
It's Diving's Ultimate Reg System
The premium high-performance SCUBAPRO MK25 EVO/CARBON BLACK TECH is not only the best-breathing reg in SCUBAPRO's line, it's also the leader in advanced design and materials and the toughest in terms of high-tech durability.
Like the original A700, the A700 CARBON's casing is full metal to take advantage of the extremely high heat exchange rate that makes this second stage such a great choice for cold-water diving. However, the screw-down front cover, in place of metal, is hand-made out of carbon fiber - the same material you find on aircraft and high-speed race cars. Carbon fiber is extremely lightweight and, unlike metal that can change shape when dropped or struck against a hard object, carbon fiber can resist substantial shocks without damage.
Performance-wise, the A700 CARBON retains the same muscular performance as the all-metal A700. Its air-balanced valve technology and oversized exhaust valve work in conjunction with a well designed sectional exhaust tee, a first-rate purge and responsive user controls to create a tech-tough breather with effortless inhalation and an ease of exhalation that is unmatched. It's now just lighter and tougher.
The A700 CARBON is teamed with the MK25 EVO, widely considered the gold standard in first stage performance. This air-balanced flow-through piston design delivers consistent and effortless airflow, regardless of depth, tank pressure, or breathing rate. With its ultra-freeze-resistant Extended Thermal Insulating System (XTIS) the MK25 EVO offers excellent thermal insulation by fully isolating the mechanical elements of the first stage from the cold, all without compromising breathing performance.
Finishing off this premium air delivery system is a DLC (Diamond-Like Carbon) BLACK TECH coating that's applied to both first and second stages. This unique coating not only lends a sleek technical look to the system, its scratch- and corrosion-resistant properties perform an important function in protecting the reg against the strains and stresses of technical diving as well as the ravages of the saltwater environment.
Put it all together and you have the MK25 EVO/A700 CARBON BLACK TECH, diving's ultimate muscle reg, built with high-tech materials and sporting race-car-sleek styling. It looks great, is ultra-durable, and delivers the best breathing performance around.
TECHNICAL INFORMATION:
A700 CARBON BLACK TECH Second Stage:

Hand-made carbon fiber front cover, metal casing and metal valve housing (barrel) make for a rugged second stage able to withstand years of aggressive diving.
Carbon fiber is virtually bulletproof and also extremely lightweight. The A700 Carbon's cover weighs only 10 grams, compared to the 42-gram weight of the original A700's metal cover, resulting in more comfortable diving.
DLC Black Tech coating protects from corrosion and scratches and lends a technical look to the regulator.
Special Torx cover screws are able to support a higher tightening torque without damage.
Metal case construction enables the use of a larger diaphragm inside a compact casing, increasing breathing sensitivity.
Air-balancing smoothes out the inhalation effort when diving at varying depths and supply pressures.
User controls include a diver-adjustable inhalation effort knob and coaxial Venturi-Initiated Vacuum Assist (VIVA) switch.
Super-flow hose features an oversized bore that allows more air to flow on each inhalation.
Ultra-comfortable orthodontic mouthpiece is easy to grip yet doesn't inhibit airflow.
Weight (without mouthpiece): 8.0oz/228g.
Airflow at 2900psi/200bar: 2000 l/ min - 71 SCFM.
MK25 EVO BLACK TECH First Stage:

Air balanced flow-through piston in a Black Tech-coated brass body provides constant and effortless airflow unaffected by depth, tank pressure, or breathing rate.
DLC Black Tech coating protects from corrosion and scratches and lends a technical look to the regulator.
Patented XTIS (Extended thermal Insulating system) fully insulates the inner mechanism from the environment, improving cold-water resistance by 30% and delaying ice formation in extreme cold-water conditions without compromising breathing performance. Key insulation system components are visible in blue.
New spring insulating coating, body insulating bushing, anti-freeze cap, bigger body and cap thread all work in concert with the XTIS to improve cold-water performance.
Anti-freeze protection radically increases breathing reliability when diving in the most extreme water temperatures.
Two opposing high pressure ports allow the first stage to be positioned either up or down.
Five high-flow low pressure ports on a swivel turret maximize hose routing options.
External intermediate pressure adjustment enables technicians to fine-tune performance quickly and easily.
Available in either a 3364psi/232bar INT or 4350psi/300bar DIN configurations.
DIN version comes with a new dual-compound wheel that features a new ergo shape and soft grip on a rugged black nylon frame.
Weight: INT 232 (oz/g): 27.9/790; DIN 300 (oz/g): 20.1/570.
Airflow at 2900psi/200bar: (l/min/ SCFM): >8500/301.
Intermediate pressure (psi/bar): 133-142/9.2-9.8.
MA SERVICES provides professional service and authorized genuine spare parts for all SCUBAPRO regulators.
---
We Also Recommend