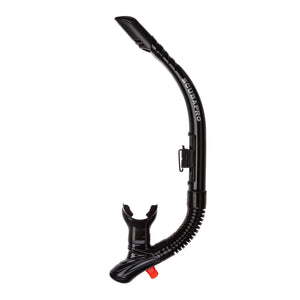 Trinidad Snorkel
26.070.000
MVR34100

MVR341.00
Price includes 8% GST
---
---
The new SCUBAPRO Trinidad Adult Snorkel offers a semi-dry design with a splashguard on top to prevent water from entering the large bore barrel. There's an efficient purge valve positioned below the silicone mouthpiece to dispel any water that might sneak in. The lower flex section drops away from the face when not needed, and the quick-connect clip makes it easy to attach to a mask strap. An integrated whistle is included for added safety.
The Trinidad Snorkel features:
Splashguard top prevents water from entering the large-bore barrel.
Flexible, corrugated section is easy to use and drops away from face when not needed.
Ergonomic, replaceable silicone mouthpiece enhances comfort during extended swims.
Purge valve positioned at the lowest point requires only a quick breath to clear any water that might enter.
MA SERVICES is the authorized distributor of SCUBAPRO products in the Maldives.

---
We Also Recommend