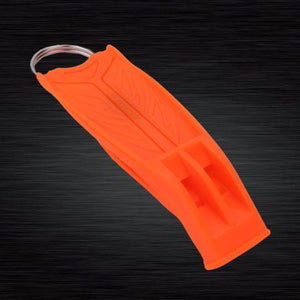 Scuba Whistle
WT-230
MVR2700

MVR27.00
Price includes 8% GST
---
---
One of the hardest things that can happen to you while diving is to be separated from the boat and be trapped in the ocean or any body of water. While divers always try to keep themselves away from accidents, there is always the fact that untoward incidents could always happen.
For the divers out in the sea, safety whistles can be useful in alerting their boat or companions if something untoward happens in the sea. Whistles, with the sound that they bring, can also attract the attention of nearby divers or people at sea, in case divers are traveling in groups. Safety whistles can equally be useful if a scuba diver suddenly becomes injured or disabled and there is no way to get help. Contrary to common notion, safety whistles can work in and out of the water. Depending on the brand, whistles can be heard as far as a mile. However, it is always recommended to scout for the best diver's safety whistle or device before you make any decision to purchase the diving equipment.
Duo-Frequency Whistle.
All-Weather Safety Whistle.
Volume: 135 dB.
Belt Clip.
Color: Orange.
Material: High Impact ABS with SUS 304 Ring.
Maintenance
After each use, must be rinsed with fresh water.
---
We Also Recommend