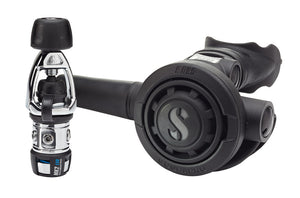 MK2 EVO / R095
12.096.000
MVR6,44400

MVR6,444.00
Price includes 8% GST
---
---
For new divers as well as veterans looking for an economical regulator that's simple, dependable and that can handle all water temperatures, the SCUBAPRO MK2 EVO/R095 is not only the best choice, it's the only choice.
The MK2 EVO is the only downstream piston style first stage in its price range to offer systems and internal components specifically designed to resist freezing in extreme cold-water conditions. When teamed with the R095, this reg system is reliable, easy to maintain and even easier to use.
Technical Information:
MK2 EVO First Stage
Classic downstream piston
Chrome plated brass body
Low pressure ports: 4
High pressure ports: 1
Available in either 3364psi/232bar INT or 4350psi/300bar DIN configurations.
Meets new EN250-2014 standards for cold-water breathing performance.
Weight: INT 230 - 24.9oz/706g; /DIN 300 - 17.1oz/485g.
Airflow at 2900psi: 2600 l/min - 92 SCFM
R095 Second Stage
Classic downstream valve
VIVA Preset
Super-flow hose
High comfort orthodontic mouthpiece
Full metal valve housing
Left/right hose attachment
Weight: 165g / 5.8oz
Air flow at 200 bar: 1400 l/min - 50 SCFM
Maximum low pressure: 14 bar / 203 PSI
MA SERVICES provides professional service and authorized genuine spare parts for all SCUBAPRO regulators.
---
We Also Recommend