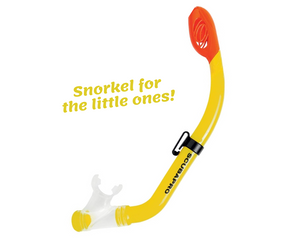 Mini Dry Snorkel, Yellow
26.004.500
MVR23750

MVR237.50
Price includes 8% GST
---
---
Top child's snorkel for extreme water fun!
The SCUBAPRO Mini Dry Snorkel features a soft, non-allergic silicone mouthpiece, a purge valve and a dry top. This innovative dry snorkel of the newest generation has a patented dry top that is very smooth and small. Water cannot enter the tube on the surface and not even during descent (3.5m).
Functionality of dry top: When the snorkel is above water, the patented float system keeps the airway open, allowing normal breathing. When the snorkel is submerged, the patented float system raises, sealing the airway and preventing water from entering. Truly a 100% Dry Snorkel.
MA SERVICES is the authorized distributor of SCUBAPRO products in the Maldives.

---
We Also Recommend