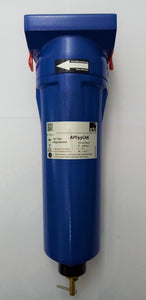 KSI ECOCLEAN® APF93CAK Filter Housing
APF93CAK
MVR8,42400

MVR8,424.00
Price includes 8% GST
---
---
Compressed air filter cartridge APF93CAK connection 3/4" Activated carbon cartridge Residual oil content 0.003 mg/m3
KSI ECOCLEAN® APF
Compressed Air Filtration
High quality through manufacturer competence
The increasing demands of modern production processes also place ever higher demands on the quality of compressed air. Compressors compress the intake air, which contains substances harmful to production, many times over and usually release oils in the finest form as aerosols to the compressed air. In addition, impurities such as fine dust, oil droplets, rust particles, scale, parts of sealing material etc. from the compressed air network are added − and of course condensate (water). Filtration technology of the KSI ECOCLEAN® series protects pneumatic production plants, machines, tools, measuring instruments or products against contamination by means of high-performance filtration.
For more information, please click here.
MA SERVICES is the authorized agent for KSI Filtertechnik GmbH in the Maldives.
---
We Also Recommend