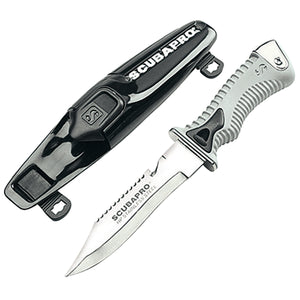 K-6 Dive Knife
32.006.100
MVR2,44300

MVR2,443.00
Price includes 8% GST
---
---
If you're a fan of full-sized dive knives you're going to appreciate SCUBAPRO's all-purpose K-6. Featuring a quality stainless steel blade with a traditional clip point, the K6 offers a fine hollow-ground cutting edge on the lower edge of the blade (best for making clean slicing cuts), and a serrated edge on top (best for sawing through rope). There's also a notch for cutting line. The contoured handle has a finger indent and a ribbed texture to make it easy to maintain a solid grip, even when wearing wet gloves. On the base of the handle a stainless surface can be used for hammering. The K6 comes with an injected molded sheath and delivers all the cutting power and handling convenience you're ever going to need.
The K-6 Dive Knife features:
Quality stainless steel blade offers both hollow-ground and serrated cutting edges along with a line-cutting notch.
Easy-grip handle is full-sized and includes a stainless hammer.
Line-cutting notch is provided for additional convenience.
Includes an injected molded sheath and two quick-adjusting buckle straps.
MA Services is the authorized distributor of SCUBAPRO products in the Maldives.

---
We Also Recommend