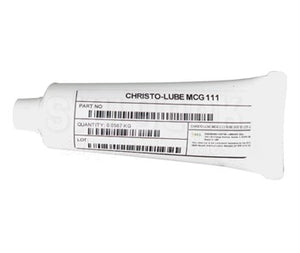 Christo-Lube - MCG111 - 2 oz.
41.047.000
MVR1,78750

MVR1,787.50
Price includes 8% GST
---
---
CHRISTO-LUBE® MCG 111 is a fully fluorinated grease thickened with PTFE which operates under extreme temperature conditions, has outstanding stability with oxygen and excellent compatibility with metals, plastics and elastomers. This medium consistency fluorinated lubricant is especially useful in lubricating valve and regulator components where non-reactivity with harsh chemicals, fuels and solvents is an important factor. CHRISTO-LUBE® MCG 111 is qualified to MIL-PRF-27617G Types I, II & III and is also registered with NSF as an H-1 lubricant meaning it is acceptable for use in or around food processing equipment. It is designed for use in all food processing operations including mixing, stirring, baking, frying, cooking, freezing, cleansing, packaging, canning and bottling.
---
We Also Recommend