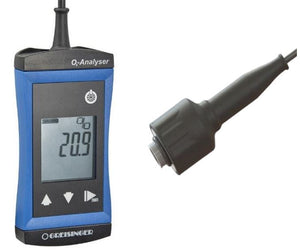 Oxygen Measuring Device, G 1690
482716
MVR6,11100

MVR6,111.00
Price includes 8% GST
---
---
The G 1690 deliberately focuses on the essential functions of measurement technology for reliable measurement of Oxygen concentration in gases.
Essential for the reliability and longevity are the sensors used, GOEL 370 and GOEL 381, especially suitable for wet environments.
The instruments also impress with their ergonomics, water protection, and display illumination.
Thus, the G 1690 is an inexpensive and precise submersible gas meter, at the same time high-quality entry for many other oxygen measurements- for example, for protective gas measurements.
SPECIFICATIONS:
Measuring range: 
0.0 ... 100.0% O 2
Accuracy typ .: 
± 0.1% O2 ± 1 digit, calibrated device (range from 15 ... 40% O 2 )
MOD:
0 ... 100 m / 0 ... 199 ft
Sensor connection: 
Thread M16 x 1.35mm audio plug socket
Sensor cable: 0.95 m, audio plug, elastic sensor protector
Max. pressure: ±0.25 bar difference at sensor membrane
MA SERVICES provides professional service and authorized genuine spare parts for GREISINGER air measuring devices.
---
We Also Recommend